Srixon Soft Feel Lady golf ball
view other products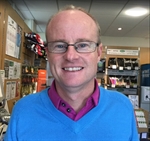 The Soft Feel Lady is another great offering from Srixon, aimed at those female golfers who tend not to swing fast enough to make the most of a Tour golf ball.
The Soft Feel, as the name suggests, uses a soft cover to provide feel and a low compression to aid strong driver performance.
The new improved dimple design delivers a penetrating trajectory with a higher lift force, resulting in improved carry distances.
A highly resilient, super soft, 58 compression core makes it very easy to transfer slower clubhead speeds into faster ball speeds, without the ball needing to feel too hard around the greens.
A unique "Hit Straight" alignment arrow promotes target focus, ensures square set-up and greater accuracy when putting.
Available in white and pink.
The Soft Feel is a great all-rounder at an attractive price point. The fact it comes in a lady specific option designed to perform with certain swing speeds in mind makes it a great one to try.